Available Fields
Each contact/cardholder in the Scan-ID database has 19 associated fields, such as name, title, company, address, city, state, postal code, ID number, issue and expiration date, notes, memo, and 2 user customizable fields.
In addition, there is a large memo field in which you can enter miscellaneous information about the contact.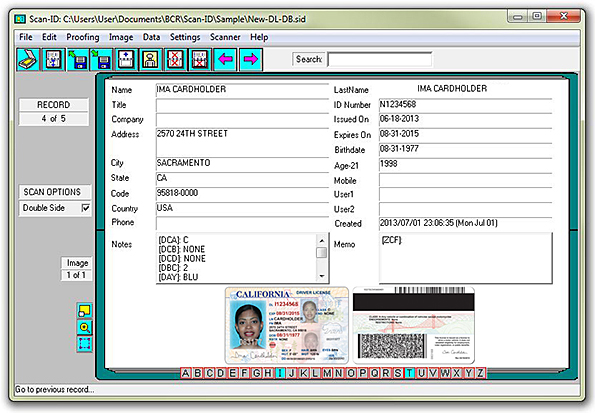 Last Name
Scan-ID automatically extracts the last name of the contact you scan into the database. You can optionally set the database to sort and display the contacts by the last name.
Auto Index

An auto index tabs on the bottom of the address book automatically sorts cards in alphabetical order. You can selectively sort the database on any field, such as name, company, title, or address.
Quick Search
You can search on any or all of the 15 available fields, including the Notes and Memo fields.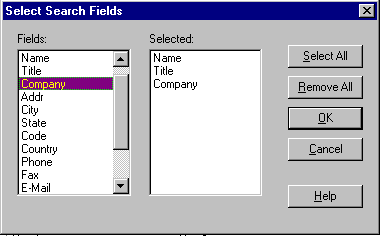 Finding any card is easy with a search engine that supports AND/OR logic. For example type "James OR Jim AND Michigan" to quickly find an old friend in Michigan even if you can't recall his last name or company.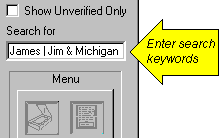 Find a lost card by simply type in any part of the name, title, company or address.
Share Database
Scan-ID Systems are available with multi-user license packages so you can immediately share the card database with others in your office.
Sharing database with other users on a network is easy – just place the folder containing the database file onto a networked drive. Anyone who has access to the drive will be able to retrieve both the text information as well as the card images. You can set password and user access privileges to the database through your network security administration.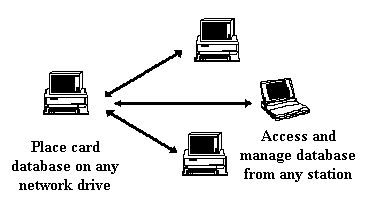 Software License Information
Each computer on the network that will be used to operate the Scan-ID software must have a separate user license. Licenses may not be shared between different computers.